Parts Questions
Ford Part No.: BXL-96-RA
Battery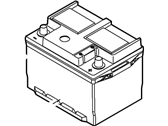 | | |
| --- | --- |
| Base No. | BXL-96-R |
| Part Description | Battery |
| Manufacturer | Ford. This genuine Ford part is guaranteed by Ford's factory warranty. |
| Manufacturer's Notes | This part is discontinued. It is no longer available for purchase. |
Part Fitment
| Make | Model | Year | Year Make Model | | Important vehicle option details |
| --- | --- | --- | --- | --- | --- |
| Ford | Contour | 1995-2000 | 1995-2000 Ford Contour | | 4AT CD4E, 5MT |
| Ford | Escape | 2007-2018, 2001-2004 | 2007-2018, 2001-2004 Ford Escape | 4 Cyl 1.5L, 4 Cyl 1.6L EcoBoost SCTi -Sigma, 4 Cyl 2.0L, 4 Cyl 2.0L EcoBoost (240PS), 4 Cyl 2.0L Zetec EFI, 4 Cyl 2.3L, 4 Cyl 2.3L Hybrid Gas/Electric DOHC, 4 Cyl 2.5L Duratec (110kW/150PS), 4 Cyl 2.5L Duratec FFV (125kW/170PS), 4 Cyl 2.5L PFI Gas/Electric, 6 Cyl 3.0L DOHC EFI Modular, 6 Cyl 3.0L OHC Duratec | 4-Speed Automatic Transmission CD4E, 5-Speed Manual Transmission, 5-Speed Manual Transmission - AK, 6-Speed Automatic Transmission 6F Mid-Range, CVT Auto Trans Powersplit Elec, Four-Wheel Drive, Four-Wheel Drive (Full Time), Four-Wheel Drive (Part Time), Four-Wheel Drive (Right Hand Drive), Front-Wheel Drive, Front-Wheel Drive (Right Hand Drive), Two-Wheel Drive, Two-Wheel Drive (Right Hand Drive) |
| Ford | Fiesta | 2011-2013 | 2011-2013 Ford Fiesta | 4 Cyl 1.6L TIVCT PFI Sigma | 5-Speed Manual Transmission - B5/IB5, 6-Speed Automatic Transmission GFT DPS6 |
| Ford | Focus | 2006-2018 | 2006-2018 Ford Focus | 3 Cyl 1.0L EcoBoost 120PS/125PS/140PS, 4 Cyl 2.0L DI TIVCT Petrol, 4 Cyl 2.0L Duratec HE, 4 Cyl 2.0L EcoBoost (240PS), 4 Cyl 2.3L | 4-Speed Automatic Transaxle - 4F27E, 5-Speed Manual Transmission - MTX75, 6-Speed Automatic Transmission DPS6, Front-Wheel Drive |
| Ford | Fusion | 2007-2012 | 2007-2012 Ford Fusion | 4 Cyl 2.3L, 4 Cyl 2.5L Duratec HE PFI, 6 Cyl 3.0L DOHC EFI, 6 Cyl 3.0L OHC Duratec, 6 Cyl 3.5L DOHC VCT SMPI | 5-Speed Automatic Transmission Mazda FNR5, 5-Speed Manual Transmission (G5M), 6-Speed Automatic Transaxle - AWF21, 6-Speed Automatic Transmission 6F Mid-Range, 6-Speed Manual Transmission Mazda G6M, CVT Auto Trans Powersplit Elec, Four-Wheel Drive (Full Time), Front-Wheel Drive |
| Ford | Mustang | 2005-2014 | 2005-2014 Ford Mustang | 6 Cyl 3.7L PFI NA, 6 Cyl 4.0L SOHC EFI, 8 Cyl 4.6L SOHC EFI, 8 Cyl 5.0L DOHC EFI Modular, 8 Cyl 5.0L MOD DOHC SEFI NA, 8 Cyl 5.4L DOHC EFI S/C ALUM, 8 Cyl 5.8L DOHC SC | 5-Speed Automatic Transmission 5R55S, 5-Speed Manual Transmission T5OD , 5-Speed Manual Transmission TR3650 , 6-Speed Automatic Transmission (6R80), 6-Speed Manual Transmission (T56), 6-Speed Manual Transmission-MT82, Rear-Wheel Drive |
| Lincoln | MKZ | 2007-2012 | 2007-2012 Lincoln MKZ | 4 Cyl 2.3L, 4 Cyl 2.5L Duratec HE PFI, 6 Cyl 3.0L DOHC EFI, 6 Cyl 3.0L OHC Duratec, 6 Cyl 3.5L DOHC VCT SMPI | 5-Speed Automatic Transmission Mazda FNR5, 5-Speed Manual Transmission (G5M), 6-Speed Automatic Transaxle - AWF21, 6-Speed Automatic Transmission 6F Mid-Range, 6-Speed Manual Transmission Mazda G6M, CVT Auto Trans Powersplit Elec, Four-Wheel Drive (Full Time), Front-Wheel Drive |
| Mercury | Mariner | 2007-2011 | 2007-2011 Mercury Mariner | 4 Cyl 2.3L, 4 Cyl 2.3L Hybrid Gas/Electric DOHC, 4 Cyl 2.5L Duratec (110kW/150PS), 4 Cyl 2.5L PFI Gas/Electric, 6 Cyl 3.0L DOHC EFI Modular, 6 Cyl 3.0L OHC Duratec | 4-Speed Automatic Transmission CD4E, 5-Speed Manual Transmission - AK, 6-Speed Automatic Transmission 6F Mid-Range, CVT Auto Trans Powersplit Elec, Four-Wheel Drive (Full Time), Front-Wheel Drive |
| Mercury | Milan | 2007-2011 | 2007-2011 Mercury Milan | 4 Cyl 2.3L, 4 Cyl 2.5L Duratec HE PFI, 6 Cyl 3.0L DOHC EFI, 6 Cyl 3.0L OHC Duratec, 6 Cyl 3.5L DOHC VCT SMPI | 5-Speed Automatic Transmission Mazda FNR5, 5-Speed Manual Transmission (G5M), 6-Speed Automatic Transaxle - AWF21, 6-Speed Automatic Transmission 6F Mid-Range, 6-Speed Manual Transmission Mazda G6M, CVT Auto Trans Powersplit Elec, Four-Wheel Drive (Full Time), Front-Wheel Drive |
| Mercury | Mystique | 1995-2000 | 1995-2000 Mercury Mystique | | 4AT CD4E, 5MT |
View More
Genuine Ford Parts, the Right Choice
Your vehicle deserves only genuine OEM Ford parts and accessories. To ensure reliability, purchase Ford part # BXL-96-RA Battery with base parts number BXL-96-R. It is sometimes referred to as
Ford Car Batteries
. Our Ford parts and accessories are expedited directly from authorized Ford dealers strategically located all across the U.S. and are backed by the manufacturer's 12 month, 12,000 mile warranty. OEM Ford parts are the best for restoring your vehicle to factory condition performance. This part fits specific Ford
Escape
,
Fusion
,
Mustang
models. It fits Lincoln
MKZ
. It also fits Mercury
Mariner
,
Milan
,
Mystique
.
Affordable, reliable and built to last, Ford part # BXL96RA Battery stands out as the smart option. Ford Parts Giant is your prime online source with the biggest and best selection of genuine Ford parts and accessories at giant discounted prices. We have the OEM Ford parts and accessories you need at the lowest possible prices. Ford Parts Giant has you covered no matter what type of Ford vehicle you drive.
Why choose

Ford Parts Giant
Dedicated Service

Your complete satisfaction is our #1 goal

Lowest Prices

Best deals on genuine OE parts from dealerships

Fast Delivery

Orders are processed and delivered promptly